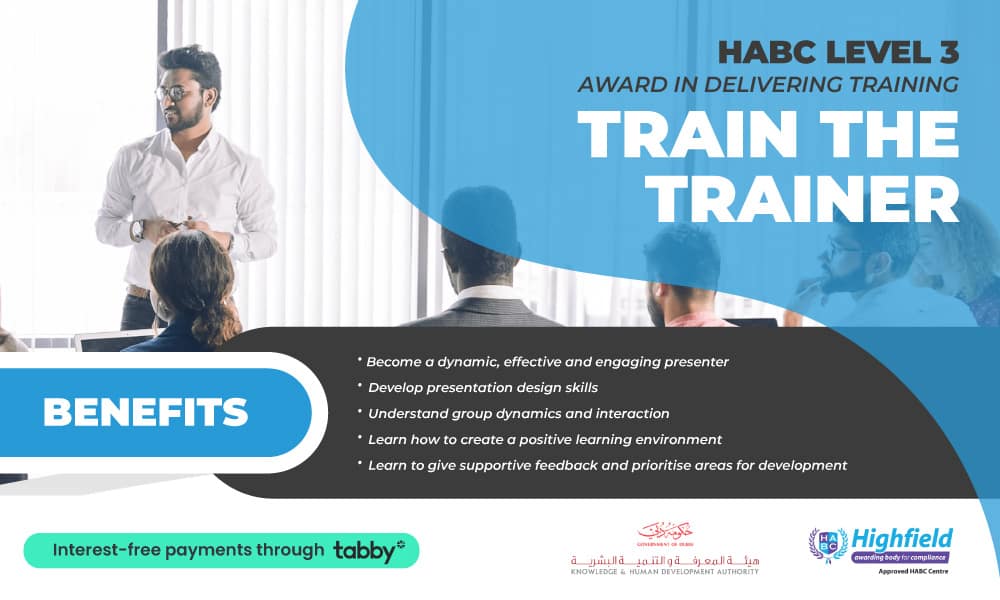 HABC Train the Trainer
Event Description
Train the Trainer Promotional Offer AED 899 AED 1299

 – installment available

or
Highfield Level 3 Award in Delivering Training (Train the Trainer)
Our train the trainer course, equips delegates with the essentials of training delivery. This is a practical, hands-on course, which develops the techniques used in real-world scenarios. Delegates, gain knowledge, skills and practical tools to deliver effective training using interactive group facilitation techniques. Delegates will be able to deliver a rewarding and professional experience for anyone that they teach.
Course Outcome
This qualification is designed for internal or external trainers who wish to improve their training skills. Subjects covered include effective training, effective use of slide presentations and other training materials, effective session planning and time management, catering for different learning styles, managing groups and individuals, effective question techniques and assessment methods.
The Highfield IADT is primarily concerned with the practical competency of trainers.
At the end of this course, delegates will be able to:
Prepare and deliver a training session appropriate to the audience's areas of expertise.
Understand delegates' different learning styles, and be able to offer other training techniques which will enhance the learning process.
Examine training methods and determine the most appropriate one for training workshops
Design training materials for group training sessions to meet specified needs
Create blueprints for training sessions
Certification
Upon completion, learners will receive a certification with lifetime validity.
Awarding Body
Enter the text or HTML code here
Address :
Iridium Building Office 113-114
Dubai
,
Dubai
47518
United Arab Emirates